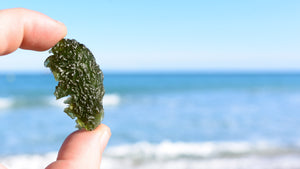 Exclusive online reserves
Investor Grade Moldavite
Investor Grade Moldavite™ is exclusive to Arkadia and is the highest quality we sell.
 They are of a rare quality, ideal for investment as well as collection and each one comes with a 
Certificate of Authenticity
. The price of Moldavite just keeps going up, and these pieces are a solid choice for investors and collectors who want to be sure they have a specimen of the highest quality. Many factors are considered in the qualification of this grade including size, shape, texture, hue and clarity.
 Now as Moldavite localities dry up even as awareness and popularity soars, the value of this gemstone will only continue its upward trend.
---
29 products